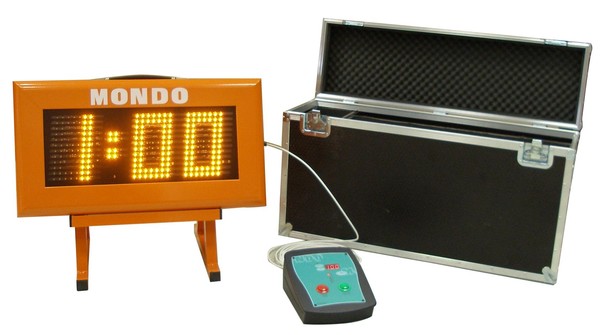 LED DISPLAY
This timer is mainly used for athletic competitions, but can also be used for any sport event where a countdown timer is required. Times are selected by an external console. The communication between console and display is made via cable.
The display is made of an extruded aluminium profile 2.5 mm thick, Mondo's own design. After a degreasing treatment, consisting of a pressured phosphate bath, the structure is painted with polyester powder paint and polymerized at 200° C in an oven.
The display is composed of three 17 cm tall digits indicating minutes and seconds (maximum 9:59).
The digits are made of 120 Degrees high-brightness yellow LED SMD diodes. The digits are protected by an assembly consisting of a perforated aluminium sheet and an opaque, anti-reflective polycarbonate sheet, ensuring good visibility even in the event of direct sunlight.
The display is equipped with a built-in automatic brightness control with three levels according to ambient brightness.
The display works if connected to a power outlet or with batteries, and its maximum power consumption is 50W. The battery pack is inserted into the display and its connection or disconnection occurs automatically whether the power cord is plugged or unplugged. The charging process takes place automatically through a built-in charger. When operating on batteries, it has an average battery life of 8 hours. It has an indicator that shows the battery charge level.
A "flight case" is supplied for easy transport and protection. It is equipped with a removable aluminium support.
It is fully functional even in adverse weather conditions.

CONTROL CONSOLE
The attractive and ergonomic design guarantees strength and lightness. It includes 3" high brightness displays showing the remaining time of the countdown.
It is equipped with eight timers that operate independently.
When the user switches from one timer to another the timers keep the last value displayed.
The value of the first six timers is set by default. The value of the remaining two timers can be set by the user. This allows easy adaptation to changes in regulations or for special customer requirements.

DIMENSIONS