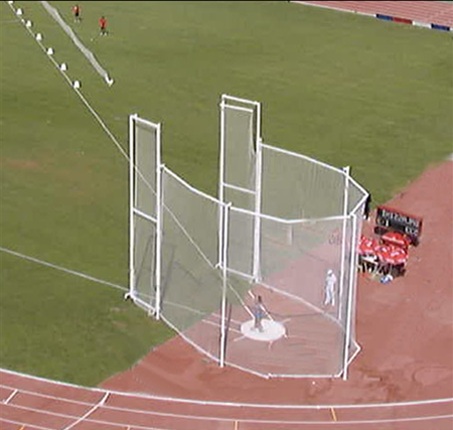 Kit consisting of Supporting Structure (AL002), Ground Sleeves (AL007), and Safety Net (AL076).
Supporting Structure (AL002)
The supporting structure consists of 5 extruded aluminium vertical poles with a 120 mm diameter circular section, reinforced by internal ribs. The upper end of the poles is L-shaped. The joint between the vertical and horizontal part is internally reinforced through a steel structure.
A square-section upright protrudes from the bottom of each pole to be inserted into the foundation.
Each pole is equipped with a winch to manually activate the lifting system of the structure supporting the safety net.
The structure supporting the net is made from 80 x 80 mm square section extruded aluminium ribbed profiles and consists of eight sections reinforced internally by a 50 x 50 mm square section steel tube, and externally by a steel plate.
The bottom side of these profiles is equipped with a groove to hang the safety net. The top side is provided with eyelets to connect the snap hooks that lift the structure..
At the bottom of the net a steel structure acts as a weight to stretch the net into the legal position and shape..
The supporting structure is equipped with two rectangular doors, made of two 80 x 80 mm square section extruded aluminium profiles, internally reinforced in each corner through a steel structure.
Each door is equipped with two winches to lift the structure supporting the net.
Each door is supported by two braked swivel casters.
All bolts and nuts are made of stainless-steel. All external steel elements are subjected to a double treatment (galvanizing and painting). After a degreasing treatment, consisting of a pressured phosphate bath, the steel elements are painted with polyester powder paint and polymerized at 200° C in an oven.
Wind resistance: The cage is designed and produced to withstand wind speeds of up to 60km/h. Higher wind speed can cause severe permanent damage to the systems including broken hardware, torn netting and bent poles.
Set of Ground Sleeves for Hammer / Discus Cage (AL007)
The ground sleeves, 5 units in total, in which the steel upright of the cage poles is inserted, are made from steel pipes.
Each sleeve is equipped with a metal cap suitable for the installation of synthetic track surface or artificial turf, depending on the position of foundations.
Safety Net (AL076)
The net is reinforced along the perimeter with 6 mm cables and is made from 4 mm diameter braided nylon rope. The mesh size is 44 x 44mm.