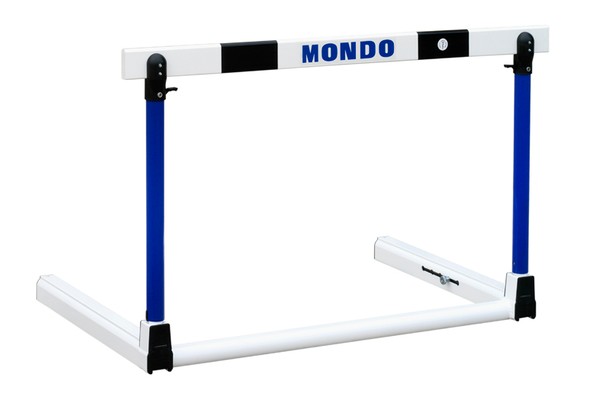 Designed and manufactured in accordance with, and certified under, the Regulations of the International Federation (IAAF Certificate: E-99-0189).
The hurdle structure has a base fabricated of extruded aluminium profiles, Mondo's own design, which host the counterweights. The open ends of the aluminum profiles are sealed with plastic-injected covers.
Two circular section aluminum tubes, again Mondo's own design, are inserted perpendicular to the base at the leading corners. These tubes guide the telescopic movement of the sliding tubes that support the cross bar.
The wooden cross bar, screen-printed in accordance with regulations, is secured by two special injection moulded plastic pieces with rounded corners to two circular section aluminum tubes, which slide vertically to position and lock the cross bar at the different legal heights (1.067 m, 1.00m, 0.914 m, 0.840 m, and 0.762 m) .
As the height is changed, weights must be manually adjusted to the legal tip-over position.
The base is shaped underneath to facilitate stacking.
After a degreasing treatment, consisting of a pressured phosphate bath, the structure is painted with polyester powder paint and polymerized at 200° C in an oven.