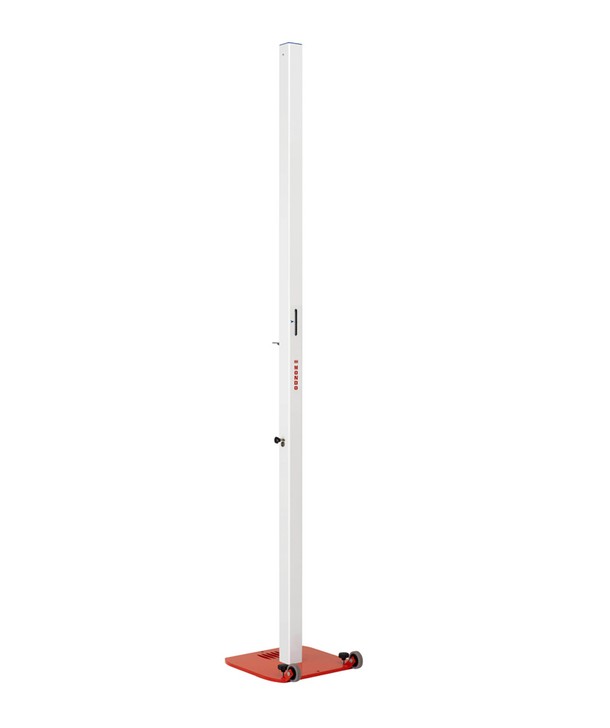 Designed and manufactured in accordance with, and certified under, the Regulations of the International Federation (IAAF Certificate E-12-0677)
The upright is manufactured from an extruded aluminum profile, with 80 mm x 80mm square section. It houses all the mechanisms required to adjust the height of the crossbar support.
The movement of the crossbar support is made possible by a crank, which activates a pulley system. A readout at eye level allows for the reading of the measuring tape that indicates the height at which the crossbar is located. The upright is equipped with a bubble level to facilitate the leveling operation.
Adjustable from 1.30m to 2.70m.
The base, made of solid steel, provides sufficient weight to prevent any movement of the uprights. It is equipped with two 80 mm diameter wheels. The wheels only move when the structure is inclined, ensuring stability during use and allowing for mobility. Two leveling knobs allow for the leveling of the standard on any surface.
After a degreasing treatment, consisting of a pressured phosphate bath, the base is painted with polyester powder paint and polymerized at 200° C in an oven.
SALES UNIT
Set of 2 pieces
DIMENSIONS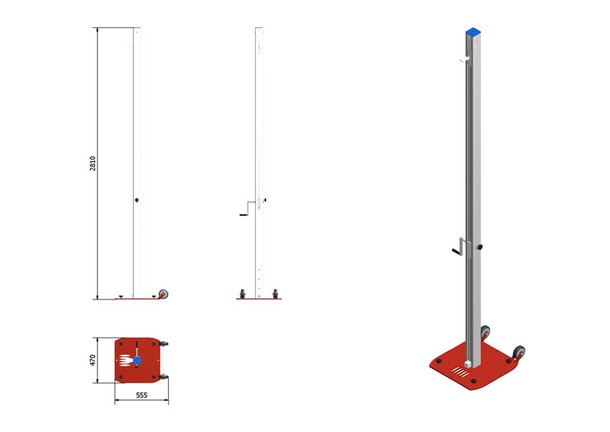 Variants
High Jump Standard WS AA025

Complement for:
High jump cross bar (MONDO) AA405
High jump cross bar (MONDO) AA405
High jump cross bar AA400
High jump cross bar AA400