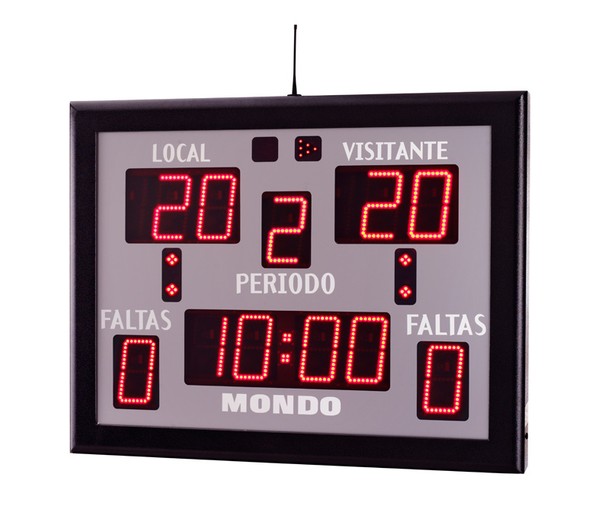 Multisport electronic scoreboard unit with one single metal structure module, measuring 1.120 mm x 880 mm x 150 mm.
LIBRA SCHOOL provides clear and complete information about all the relevant game parameters:
Home and guest team scores. Both of these scores have three digits, and can indicate a maximum point score of 199 per team.
Game time (in minutes/seconds). When the game is in the last minute and basketball is the selected sport, the scoreboard indicates the seconds/tenths-hundredths. The game time can be selected to count upwards or downwards depending on the chosen sport.
Team fouls.
Game period.
Luminous, arrow-shaped indicators, one for each team, which show which team has committed the foul or which team has ball possession
Time out, by means of two red dots for each team.
Clock and thermometer function when the scoreboard is not being used.
The luminous digits are 15 cm high and are made of very high luminosity LED diodes with a 170º viewing angle.
It has an acoustic signal with an electromagnetic horn that automatically activated when the game ends. It can also be manually activated to indicate start/end of time out, player changeover, etc.
LIBRA SCHOOL works with RADIOFREQUENCY as a standard communication system.
Both LIBRA SCHOOL and its console (BASIC model) are powered by a 220 volts/50 Hz electrical connection.