Designed and manufactured in accordance with, and certified under, the Regulations of the International Federation (IAAF Certificate E-99-0122).
The hurdle structure has a base fabricated of extruded aluminium profiles, Mondo's own design, which allows easy adjustment of the counterweights, which are blocked through the use of a spring device into the legal tip-over position. It comes equipped with graduated indicators. The open ends of the aluminium profiles are sealed with plastic-injected covers.
Two circular section aluminum tubes are inserted perpendicular to the base at the leading corners. These tubes guide the telescopic movement of the cross bar. They house a locking system, Mondo's own design, that locks the bar at different heights using a stainless steel spring and pin, which are located in a nylon-injected case placed within the tubes.
The wooden cross bar, screen-printed in accordance with regulations, is secured by two special injection moulded plastic pieces with rounded corners to two circular section aluminum tubes, which slide vertically to position and lock the cross bar at the different legal heights (1.067 m, 1.000 m, 0.914 m, 0,840 m, and 0.762 m). The tubes come equipped with graduated indicators.
The base is shaped underneath to facilitate stacking.
After a degreasing treatment, consisting of a pressured phosphate bath, the structure is painted with polyester powder paint and polymerized at 200° C in an oven.
DIMENSIONS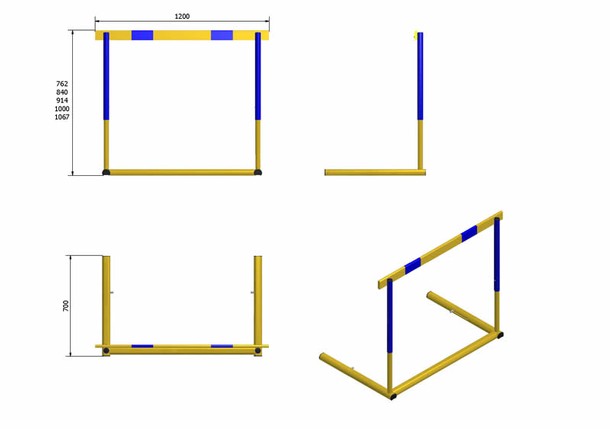 Spare Parts for Manual hurdle AC001