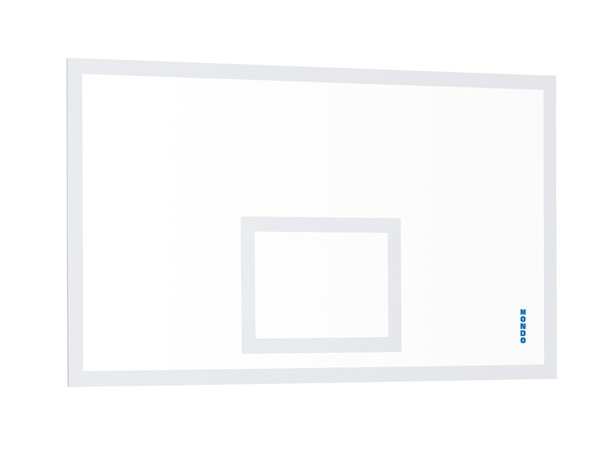 Unit of methacrylate board, designed and manufactured to comply with the European Standard EN-1270 as a spare part.
The backboard is available in different thicknesses and in two sizes:
Basketball size: 1800 x 1050 mm
Thicknesses available: 10 mm (PK811), 15 mm (PK821), 20 mm (PK831) or 30 mm (PK841).
Mini basketball:1200 x 900 mm
Thicknesses available: 10 mm (PK883) or 15 mm. (PK881)
It is made of bonded methacrylate (density of 1.19 Kg/m³) with a high impact resistance >10 Kg/cm² on the Charpy pendulum. It provides good light transmission, according to UNE 53340, as well as good transparency.
The methacrylate backboard must be joined to the metallic frame (not included) with screws that must be inserted in the acrylic itself, and as a result, they should not be visible from the front side.
The white lines on the backboard established by the regulation are made in vinyl.

Variants
Methacrylate board for basketball PK865 (Unit of glass 14 mm board+metal frame+ BLUE board protection )
Methacrylate board for basketball PK866 (Unit of glass 14 mm board+metal frame+ BLACKboard protection )
Methacrylate board for basketball PK810 (One unit of metal frame + methacrylate 10mm board)
Methacrylate board for basketball PK811 (One unit of methacrylate 10mm board)
Methacrylate board for basketball PK820 (One unit of metal frame + methacrylate 15mm board)
Methacrylate board for basketball PK821 (One unit of methacrylate 15mm board)
Methacrylate board for basketball PK830 (One unit of metal frame + methacrylate 20mm board)
Methacrylate board for basketball PK831 (One unit of methacrylate 20mm board)
Methacrylate board for basketball PK840 (One unit of metal frame + methacrylate 30mm board)
Methacrylate board for basketball PK841 (One unit of methacrylate 30mm board)
Methacrylate board for basketball PK850 (One unit of fiber glass board)
Methacrylate board for basketball PK851 (One unit of metal frame + fiber glass basketball board)
Methacrylate board for basketball PK872 (One unit of anti-vandalism customized basketball board, galvanized and painted drilling steel made)
Methacrylate board for basketball PK880 (One unit of anti-vandalism minibasketball board, galvanized and painted drilling steel made (1200 mm x 900 mm))
Methacrylate board for basketball PK881 (One unit of methacrylate 15 mm minibaskteball board (1200 mm x 900 mm))
Methacrylate board for basketball PK882 (One unit of metal frame + methacrylate 15 mm minibasketball board)
Methacrylate board for basketball PK883 (One unit of methacrylate 10 mm minibasketball board (1200 mm x 900 mm)ta)
Methacrylate board for basketball PK884 (One unit of metal frame + methacrylate 10 mm minibaskteball board)
Methacrylate board for basketball PK890 (One unit of metal frame + fiber glass minibasketball board)