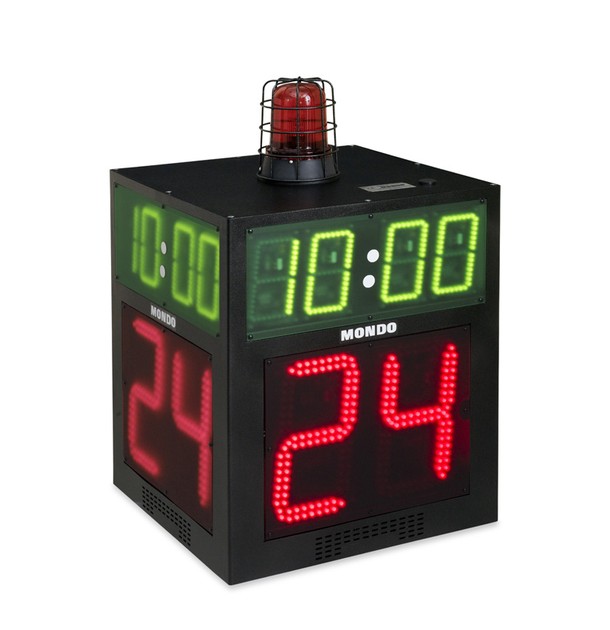 Set of two four-sided shotclock scoreboards including game time display. They are Level 1 FIBA approved to be used in top competition events, located over the basketball units. Each of them is connected to the control panel by radiofrequency or cable. The main scoreboard must be a MONDO to be synchronized with the main scoreboard game time.
Manufactured in a black embossing aluminum frame, each one has a total weight of approximately 40 kilos. Its dimensions (including the luminous indicator) are 900 x 580 x 580 mm.
All the digits are made of high luminosity LEDs placed behind methacrylate sheets to be easily seen.
Digits indicating the possession time are red-colored and 30 cm high.
Digits indicating game time are green-colored and 15 cm high.
The upper warning light and the internal horn sound come on automatically when the ball possession ends.
The shotclocks are controlled by a MONDO control panel from which they can be easily operated.
Communication between the control panel and the scoreboard can be done by cable (MMF4TIC) or radiofrequency (MMF4TIR), depending on the customer's choice. MONDO strongly recommends cable communication for big indoor halls and basketball competitions due to the expected use of other external wireless devices at the same time.
Variants
Set of four-sided shotclock scoreboards MMF4TIR (Radiofrequency communication)
Set of four-sided shotclock scoreboards MMF4TIC (Cable communication)