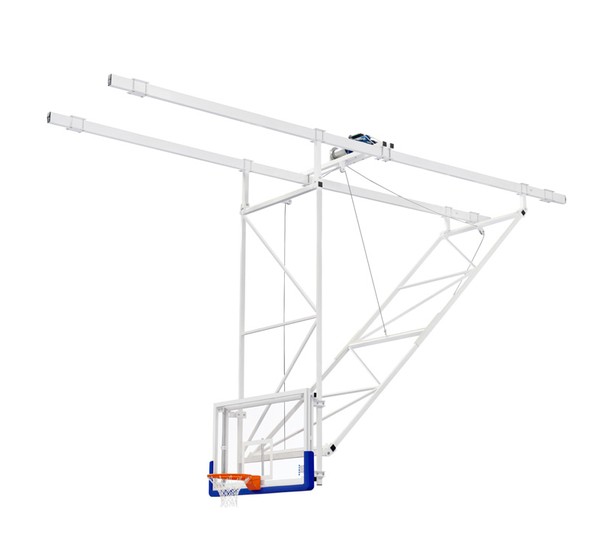 Set of two basketball units designed, certified and manufactured to comply with the EN-1270 requirements (evaluation by Instituto de Biomecánica de Valencia). It is designed with the latest CAD technology and finite elements analysis to calculate the impact and vibration produced by playing basketball.
This basketball unit is installed in the ceiling trusses and has automatic elevation operated by a control panel. Depending on the size of the indoor gym it can folded to the front or to the back. It is mainly design to be used in the main central basketball court of an indoor gym.
Several options can also be chosen for the ring (tilting or fixed), the board material and thickness. The board is protected with a padding around the bottom section.
MONDOHANGER multitubular structure is painted in standard white colour, but other colours can be used among the standard range.
The installation of the basketball unit differs for each type of sports facility and because of that Mondo's technical staff studies each case and develops the most appropriate solution. The additional structure to fix the MONDOHANGER to the ceiling trusses will be manufactured and adapted according to the characteristics of the sports centre, so it has to be studied and quoted separately.
Variants
Set of MONDOHANGER basketball units PK510
Set of MONDOHANGER basketball units PK511
Set of MONDOHANGER basketball units PK512
Set of MONDOHANGER basketball units PK513
Set of MONDOHANGER basketball units PK514
Set of MONDOHANGER basketball units PK515
Set of MONDOHANGER basketball units PK530 (Set of automatic MONDOHANGER basketball units, front folding, tilting ring, 20 mm board" tal y como pone en el fichero Excel "basketball indoor sport equipment product tree)
Set of MONDOHANGER basketball units PK531 (Set of automatic MONDOHANGER basketball units, front folding, tilting ring, 15 mm board)
Set of MONDOHANGER basketball units PK532 (Set of automatic MONDOHANGER basketball units, front folding, tilting ring, 30 mm board)
Set of MONDOHANGER basketball units PK533 (Set of automatic MONDOHANGER basketball units, front folding, fixed ring, 15 mm board)
Set of MONDOHANGER basketball units PK534 (Set of automatic MONDOHANGER basketball units, front folding, tilting ring, 10 mm board)
Set of MONDOHANGER basketball units PK535 (Set of automatic MONDOHANGER basketball units, front folding, fixed ring, 10 mm board)