Series of adjustable hurdles designed and manufactured in accordance with the Regulations of the International Federation (IAAF).
The series consists of three hurdles 3.96m wide and one hurdle 5.00m wide, adjustable to the legal heights (0,914 m for men and 0,762 for women).
The hurdle consists of a top beam barrier, 3.96m or 5.00m long, made of pine wood, with rounded edges, screen-printed in accordance with regulations, reinforced with an inner core fabricated from an 80mm x 80mm square section extruded aluminium profile. The aluminium core is equipped, at the bottom, with a groove for mounting two telescopic vertical supports.
Each telescopic support consists of a vertical square steel tube welded to a horizontal steel profile with rectangular section that hosts the steel counterweight. Inside this square tube is another square tube with smaller section, which slides telescopically to the legal heights. The telescopic support is locked at the desired height through a pin that passes through the two tubes and is secured through a threaded knob.
The beam barrier is painted with weather-resistant paint.
After a degreasing treatment, consisting of a pressured phosphate bath, the telescopic supports are painted with polyester powder paint and polymerized at 200° C in an oven.
SALES UNIT
Set consisting of three 3.96 m hurdles and one 5.00 m hurdle.
DIMENSIONS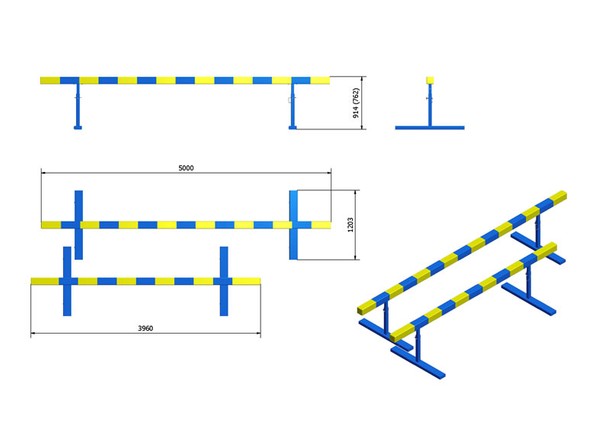 Variants
Set of Steeplechase Barriers - 1 x 5.00 m + 3 x 3.96 m WS AC039 (4 x 3,96 m)

Set of Steeplechase Barriers - 1 x 5.00 m + 3 x 3.96 m WS AC044 (3 x 3,96 m + 1 x 5,00 m)

Accessories for Set of Steeplechase Barriers - 1 x 5.00 m + 3 x 3.96 m WS 4 x 3,96 m AC039
Steeplechase hurdle carts (set of 2) AC049
Accessories for Set of Steeplechase Barriers - 1 x 5.00 m + 3 x 3.96 m WS 3 x 3,96 m + 1 x 5,00 m AC044
Steeplechase hurdle carts (set of 2) AC049
Spare Parts for Set of Steeplechase Barriers - 1 x 5.00 m + 3 x 3.96 m WS 4 x 3,96 m AC039
Spare Steeplechase Barrier Beam 3.96 m AC046
Spare Parts for Set of Steeplechase Barriers - 1 x 5.00 m + 3 x 3.96 m WS 3 x 3,96 m + 1 x 5,00 m AC044
Spare Steeplechase Barrier Beam 3.96 m AC046
Spare Steeplechase Barrier Beam 5.00 m AC047