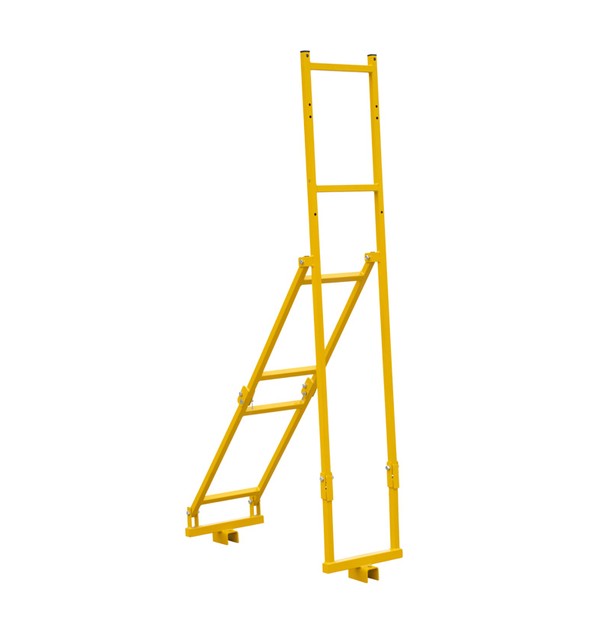 The set consists of 2 support units for the shot clock scoreboard on top of the basketball unit. They are designed and manufactured in compliance with FIBA regulations.
They are located at the top of the backboard and fixed to the arm of the basketball unit. They have to support the scoreboard at a distance that allows it to be visible to the players.
Made entirely of steel profile square sections, it consists of two vertical posts to which the scoreboard is attached. The posts are joined together by stanchions and a rear structure articulated in its central part.
Due to its four rotating points, it can be folded up horizontally for storage and it can fit into the basketball unit´s structure.
When the structure is unfolded to its playing position, the diagonal rear structure has to be secured with a bolt.
The ball possession scoreboard is joined to the basketball unit with a rail that contains the basketball unit inside the top part of the arm, being able to place it along this arm at the location wished for.
The scoreboard is fixed to the structure with screws that go through the posts and can be screwed to the scoreboard with riveting nuts.
All steel junction elements have been subjected to a zinc treatment.
The product is painted with polyester powder paint, which is applied after a degreasing treatment using a pressurised phosphate bath and cured in an oven at 200ºC.
Standard colour: yellow.
Variants
Set of supports for possession scoreboards on MONDOCUP and MONDOCLUB PK290 (Set of two supports for one sided 24" scoreboards (MONDOCUP 3,25m AND 2,52 M))
Set of supports for possession scoreboards on MONDOCUP and MONDOCLUB PK291 (Set of two supports for one sided 24" scoreboards (MONDOCUP 2,25m))
Set of supports for possession scoreboards on MONDOCUP and MONDOCLUB PK390 (Set of two supports for one sided 24" scoreboards (MONDOCLUB))