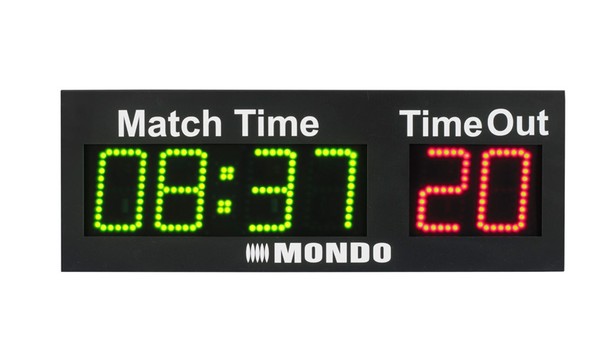 LED team changing-room timer shows game TIME and TIME OUT.
Digits are 12 cm in height (green for TIME and red for TIME OUT).
It is usually installed in the team changing-room and its controlled by the main scoreboard console.
Communication between the console and the timer occurs through a data cable RS485 (not included).
An additional splitter may be needed if several timers are to be installed in different rooms.
It can function as a clock when the scoreboard "clock option" has been selected in the console.
The timer must be connected to a 220 V power supply.
Weight: 7 Kg
Dimensions: 750x 105 x 270 mm
This product has been designed to be an accessory of other MONDO scoreboards or systems, for indoor top level competitions.
It is only allowed to use it connected to a MONDO scoreboard, otherwise it would be consider as a wrong use of the equipment.
MONDO cannot guarantee the desired compatibility between this product and other different devices from other companies.
Variants
Team changing room timer ME0025