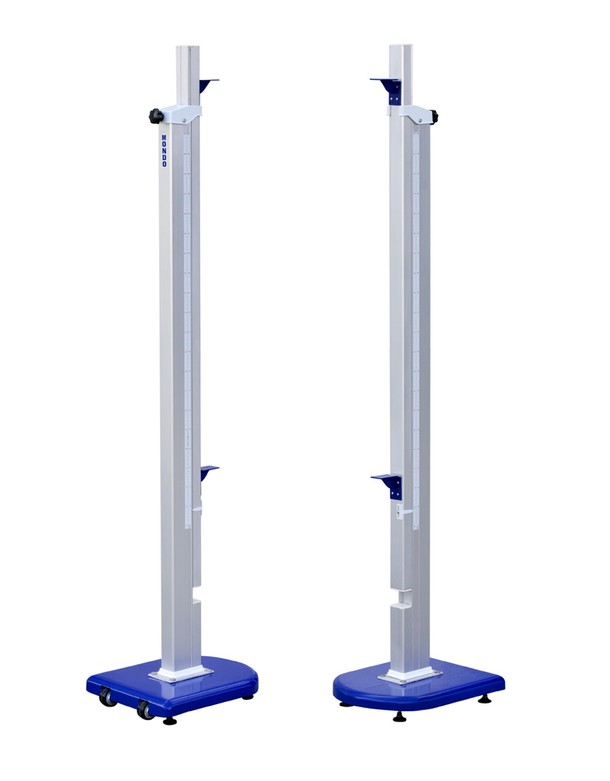 Designed and manufactured in accordance with, and certified under, the Regulations of the International Federation (IAAF Certificate E-07-0505)
It consists of two extruded aluminum profiles, a fixed one that serves as support, with a rectangular section of 70 x 50 mm with rounded edges, equipped on one side with a guide, and a telescopic one, with a square section of 50 x 50 mm, which slides vertically along the guide.
The telescopic upright holds two crossbar supports. The lower support is adjustable from 0.60m and 1,60 mm, the upper one from 1,60m and 2,60 mm. The fixed upright is equipped with two independent graduated indicators, which allow measuring the height of the crossbar based on the support on which the crossbar is placed.
The base, made of sheet metal, contains a concrete counterweight that provides sufficient weight to prevent any movement of the uprights. It is equipped with polypropylene wheels that facilitate transport.
All the metal parts (knob, bolts and screws) are subjected to a chemical galvanizing treatment. The aluminum, once extruded, is subject to a pre-anodizing treatment, followed by coating with polyester powders polymerized in oven at 200°C.
Variants
Telescopic High Jump Standard AA012

Complement for:
High jump cross bar (MONDO) AA405
High jump cross bar (MONDO) AA405
High jump cross bar AA400
High jump cross bar AA400