VINYLSPORT HIGH PERFORMANCE
VINYLSPORT HIGH PERFORMANCE
Raise the standards. Elevate the game.
Vinylsport High Performance is a pre-fabricated sports flooring delivered in rolls. Its shock-absorption values of more than 35% (Category P2 according to regulation EN14904) make it ideal for high-level competition.
Speed, agility and explosive leaping. Volleyball requires a high-end surface capable of supporting high-performance play. That's Vinylsport High Performance.
MULTILAYER STRUCTURE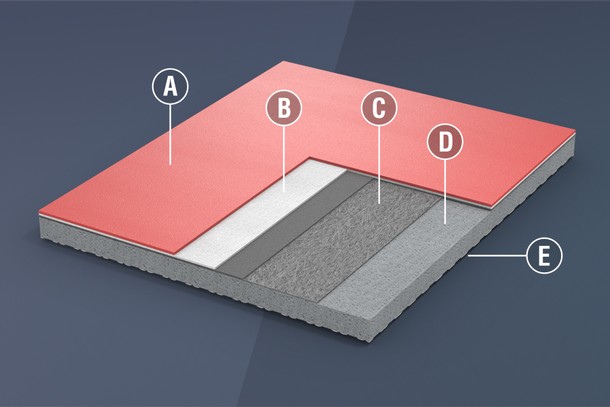 A. High density wear resistant vinyl layer
B. High density compression resistant vinyl layer
C. Glass Fiber mesh
D. Medium density foam layer
E. Anti-slip backing with peduncles
Maximum safety for elevated competition.
Due to a supporting underlayer made of polyurethane foam, Vinylsport High Performance guarantees shock absorption greater than 35% for total comfort. The embossed, opaque, non-scratch, and non-slip finish makes the flooring ideal for high-level competition. The flooring comes in a wide range of colors, including FIVB's official colors.
A loose-laid installation solution for volleyball.
Designed for volleyball, Vinylsport High Performance flooring has a PVC finish. The surface pattern ensures the ideal friction coefficient for players' every movement, as well as minimal abrasiveness for diving and sliding. Vinylsport High Performance can be installed with adhesive tape, so it doesn't need to be glued to the slab below, which maintains the court's dimensional stability.
CLOSE
Product Variants:
Vinylsport High Performance 9.5 mm
Color Range
S18

S14

S23

S41

S70

S90

S32

S81

S42

S26

S71

S80
Dimensions
Thickness: 9.5 mm
Length: 20 m
Width: 195 cm
CERTIFICATIONS
Approved by the Badminton World Federation

IHF Certificate of Approval for Synthetic Floorings
Downloads
Republic of Korea - Hwangji
Republic of Korea - Cheonan-dong
Technologies and services