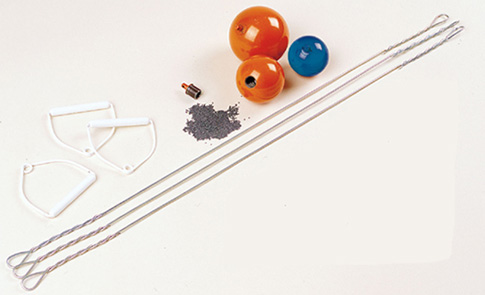 Made of lacquered steel, and equipped with a device that facilitates the refilling and calibration for the homologation during competitions. Handle and cable included.
The cable is connected to the hammer through a bolt equipped with ball bearings that guarantee free rotation.
After a degreasing treatment, consisting of a pressured phosphate bath, the product is painted with polyester powder paint and polymerized at 200° C in an oven.
Variants
Iron Hammer AL400 (2,00 Kg)
Iron Hammer AL401 (3,00 Kg)
Iron Hammer AL402 (4,00 Kg)

Iron Hammer AL403 (5,00 Kg)
Iron Hammer AL404 (6,00 Kg)
Iron Hammer AL405 (7,26 Kg)

Accessories for Iron Hammer 2,00 Kg AL400
Mondo Shot Put / Hammer Key AL415
Accessories for Iron Hammer 3,00 Kg AL401
Mondo Shot Put / Hammer Key AL415
Accessories for Iron Hammer 4,00 Kg AL402
Mondo Shot Put / Hammer Key AL415
Accessories for Iron Hammer 5,00 Kg AL403
Mondo Shot Put / Hammer Key AL415
Accessories for Iron Hammer 6,00 Kg AL404
Mondo Shot Put / Hammer Key AL415
Accessories for Iron Hammer 7,26 Kg AL405
Mondo Shot Put / Hammer Key AL415
Spare Parts for Iron Hammer 2,00 Kg AL400
Hammer wire (short, 969 mm) AL425C
Hammer wire (short, 969 mm) AL425C
Hammer handle AL420
Hammer handle AL420
Spare Parts for Iron Hammer 3,00 Kg AL401
Hammer wire (long, 978 mm) AL425L
Hammer wire (long, 978 mm) AL425L
Hammer handle AL420
Hammer handle AL420
Spare Parts for Iron Hammer 4,00 Kg AL402
Hammer wire (short, 969 mm) AL425C
Hammer wire (short, 969 mm) AL425C
Hammer handle AL420
Hammer handle AL420
Spare Parts for Iron Hammer 5,00 Kg AL403
Hammer wire (short, 969 mm) AL425C
Hammer wire (short, 969 mm) AL425C
Hammer handle AL420
Hammer handle AL420
Spare Parts for Iron Hammer 6,00 Kg AL404
Hammer wire (long, 978 mm) AL425L
Hammer wire (long, 978 mm) AL425L
Hammer handle AL420
Hammer handle AL420
Spare Parts for Iron Hammer 7,26 Kg AL405
Hammer wire (short, 969 mm) AL425C
Hammer wire (short, 969 mm) AL425C
Hammer handle AL420
Hammer handle AL420