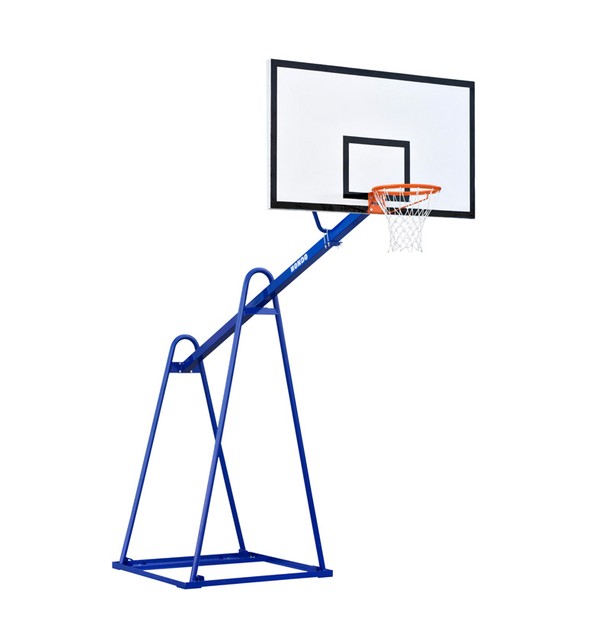 Set of two portable floor-standing basketball units, designed, manufactured and tested according to European Standard EN-1270 (certified by the Institute of Biomechanics of Valencia).
Multi-tubular floor-standing basketball unit made of structural steel tubes with the following components: an arm, two triangular shape vertical posts, a base and a backboard with a rim and net.
The arm is made with a 80 x 80 mm square section profile, with a projection of approximately 1.65 m (basketball size). The backboard has to be fixed at the top and also includes an arch to attach the backboard at the very top.
The vertical posts, made of circular section steel tubes, have a triangular shape with a rounded top. These posts support the arm and give the necessary rigidity and stability to the basketball unit.
The base has a square shape and is made of hot rolled angular section profile. It provides sufficient surface to guarantee the stability of the basketball unit.
The basketball unit must be anchored by introducing some anchors and screws in the sub-base. The sub-base has to be flat and resistant enough to withstand these anchors.
All junction elements have been subjected to zinc treatment.
Customers can choose the board type and rim height (MONDOTRAINING for basketball height or MONDOMINI for minibasketball height ).
The ring is fixed and the net is included.
If the customer wants to move and transport the basketball unit, a wheel system and additional set of counterweights should be purchased.
The product is painted with polyester powder paint, which is applied after a degreasing treatment using a pressurised phosphate bath and cured in an oven at 200ºC
Standard colour: blue.
Note: It is delivered completely dismounted.
Variants
MONDOTRAINING / MONDOMINI basketball units PK701 (Set of MONDOTRAINING basketball units, fixed ring, fyber glass board)
MONDOTRAINING / MONDOMINI basketball units PK702 (Set of MONDOTRAINING basketball units, fixed ring, 10 mm board)
MONDOTRAINING / MONDOMINI basketball units PK703 (Set of MONDOTRAINING basketball units, fixed ring, 15 mm board)
MONDOTRAINING / MONDOMINI basketball units PK720 (Set of MONDOMINI basketball units, fixed ring, fyber glass board)
MONDOTRAINING / MONDOMINI basketball units PK721 (Set of MONDOMINI basketball units, fixed ring, 10 mm board)
MONDOTRAINING / MONDOMINI basketball units PK722 (Set of MONDOMINI basketball units, fixed ring, 15 mm board)