Used as an accessory for the electronic pole vault standard (AE120).
It indicates the horizontal displacement of the uprights in centimeters (0 / + 80 cm), as required by the athlete.
The control is performed by the use of the Mondo Motor Manager software, which has an integrated database where one can store the preferences of each athlete.
The display, which is Mondo's own design, is made of an extruded aluminum profile 2.0 mm thick. After a degreasing treatment, consisting of a pressured phosphate bath, the display is painted with polyester powder paint and polymerized at 200° C in an oven. The display is composed of two 17 cm tall digits, made of 120 Degrees high-brightness yellow LED SMD diodes. The digits are protected by an assembly consisting of a perforated aluminum sheet and an opaque, anti-reflective polycarbonate sheet, ensuring good visibility even in the event of direct sunlight.
The display is equipped with a built-in automatic brightness control with three levels according to ambient brightness.
The display operates if connected to a power outlet or with batteries, with a maximum power consumption of 65W. The battery pack is inserted into the display; connection and disconnection occurs automatically by inserting and removing the power supply cable. The charging process is also automatic and uses a battery charger located inside the indicator. The average battery life is 10 hours. An internal charging indicator shows the status of batteries.
It comes in a "carrying case" for easy transport and protection.
It is equipped with a removable aluminum support.
It is fully functional even in adverse weather conditions.
DIMENSIONS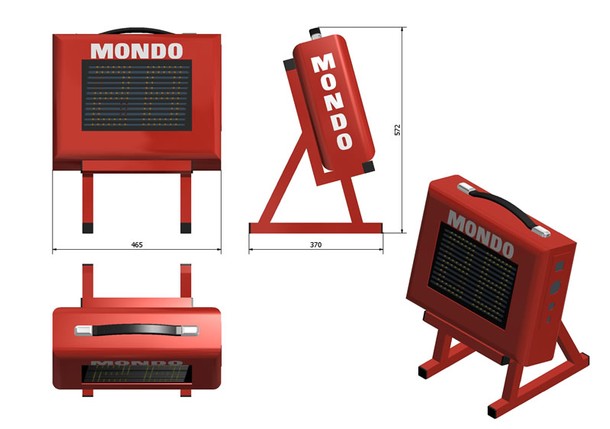 Variants