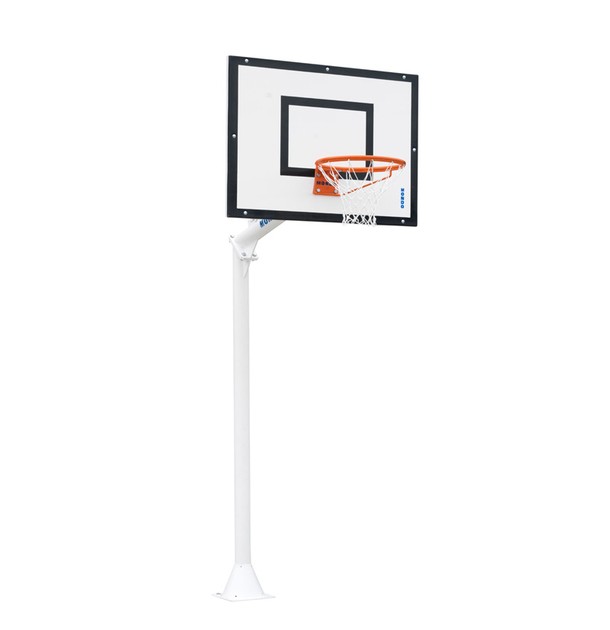 Set of two outdoor monotube basketball units attached to the floor by means of an anchor inserted in the concrete ground. They are designed using the latest CAD technology and finite element analysis to calculate impact absorption and vibrations produced by playing basketball. Its design has been tested and certified by I.B.V. (Instituto de Biomecánica de Valencia) in accordance with European Standards EN 1270.
The basketball units are manufactured of a structural steel tube which is galvanized and painted.
The basketball unit contains one vertical post and a transversal prolongation as the backstop unit arm in its upper part.
Both vertical post and the arm are joined together by plate. This system is also used in the joint of the fiberglass board and the rim.
At the base of the vertical post there is also a plate which the anchor system is fixed too. The base is protected by round corners to avoid sharp edges.
The units can be manufactured in two different heights: basketball or mini basketball.
All junction elements are made steel that has been subjected to zinc.
After being galvanized, the product is painted with polyester powder paint, which is applied after a degreasing treatment using a pressurised phosphate bath and cured in an oven at 200ºC
Standard colour: white.
Note: The anchors are not included.
Variants
Set of outdoor monotube basketball units PK744 (Set of outdoor monotube basketball units, fixed ring, galvanized and painted)
Set of outdoor monotube basketball units PK745 (Set of outdoor monotube minibasketball units, fixed ring, galvanized and painted)