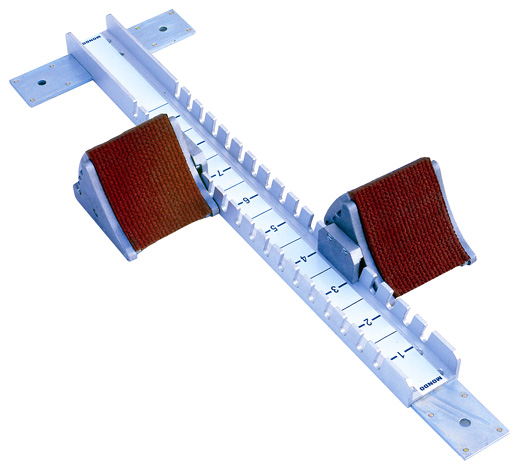 Designed and manufactured in accordance with, and approved under, the Regulations of the International Federation (IAAF Certificate E-99-0121).
The starting block consists of two pedals with a surface area of 188 square centimetres, made from cast aluminium and covered with a synthetic layer. The tilt can be adjusted to four levels.
The central rail, made of an extruded anodized aluminium profile, is 850 mm long. It allows positioning of each pedal in 18 positions. A graduated indicator indicates the position of each pedal.
Two metal plates made of galvanized steel, with respectively 4 or 8 regulation spikes, are mounted at its bottom, front and rear.

DIMENSIONS
Variants
Starting Block AC010

Complement for:
Starting block cart WA AC019
Spare Parts for Starting Block AC010
Starting Block Spare Spike AC012