FIRST LOOK AT THE NEW SPORT IRELAND NATIONAL SPORT ARENA
EQUIPPED WITH A BRAND NEW MONDO VARIABLE BANKING HYDRAULIC TRACK
29-Jan-2017
The Sport Ireland National Indoor Arena at the Sport Ireland National Sports Campus near Dublin was officially opened by Taoiseach, Enda Kenny TD on January 26.
The 44,500sqm facility includes an Variable Banking Hydraulic Track certified by IAAF and many other training spaces.
Mondo's hydraulic tracks can be set at any intermediate position between flat and fully raised, so they can be used for a wide range of training activities and by athletes with different abilities, from younger or slower to world record holders.
MONDO: ALWAYS ON ATHLETE'S SIDE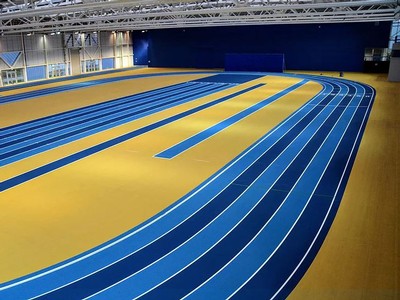 The new variable banking hydraulic Track at the National Indoor Arena, Dublin