MONDO AND WORLD PADEL TOUR CONFIRM THEIR PARTNERSHIP UNTIL 2023
MONDO AND WORLD PADEL TOUR CONFIRM THEIR PARTNERSHIP UNTIL 2023
23-Sep-2020
MONDO Sport&Flooring and World Padel Tour have renewed their collaboration and MONDO will continue to be the Official Supplier of the padel pitches of the international circuit for the next three years. The central pitches of the World Padel Tour competitions will be produced with an exclusive artifical turf system designed by Mondo specifically for paddle tennis.
The blue sport surface on which the best padel players in the world compete is a distinctive sign of the World Padel Tour circuit: it is the "blue heart". A "blue heart" that will continue to beat strongly for the next three years: Mario Hernando, general manager of the World Padel Tour, and Santiago Palomera, MONDO Ibérica general manager, have formalized the collaboration agreement which confirms that the competitions of the World Padel Tour will continue to take place on MONDO surfaces at least until 2023.
«The World Padel Tour has managed, with its organization, to bring the game of padel to the highest levels, all over the world. We are proud to be able to continue working together to design innovative solutions for this spectacular game. In addition, in these difficult times, the World Padel Tour has proved to be an example of courage, work and commitment, values ​​with which we fully identify» said Santiago Palomera, MONDO Ibérica CEO, after the renewal agreement. The general manager of the World Padel Tour, Mario Hernando, underlined: "For us it is a warranty to keep on cooperating with MONDO. Not only because it is a leader in the production of sports surfaces but for the dedication, affection and effort shown in these years of fruitful collaboration. MONDO's artificial turf systems for Padel are already a reference all over the world, and will continue to be so for a long time".
A consolidated collaboration
World Padel Tour matches have been held on MONDO'S artificial turf pitches since the beginning of this international tournament, in 2012. In 2015 MONDO and World Padel Tour made their collaboration official: MONDO became the Official Supplier of the synthetic turf surfaces of the circuit and all the central fields of the competitions that took place in Spain boasted a Mondoturf system. In 2018, the World Padel Tour developed further across the border, up to Italy, in 2020. And MONDO could not miss this event: the first Italianleg of the World Padel Tour, in Cagliari, Sardinia, took place on Supercourt by MONDO.
Experience and attention to the needs of padel players have allowed MONDO to design and produce a artificial turf surface that perfectly meets the needs of these athletes.
This approach is the basis of the daily work of our company which since 1948, , has been committed to creating new horizons for sports performance, studying the most suitable surface for each sport discipline, with the aim of designing and implementing specific solutions in able to improve the safety and performance of athletes, both in competition and in training.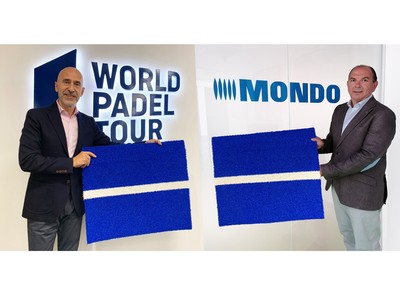 Mario Hernando, WPT and Santiago Palomera, CEO Mondo Iberica