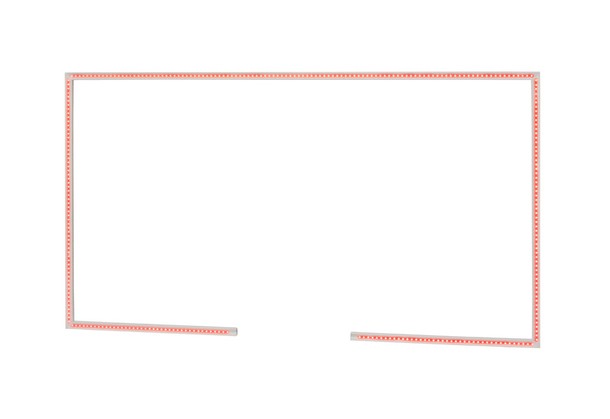 Luminous frame unit for a basketball board comprised of high luminosity LED diodes. It is easy to assemble and is connected directly to the possession scoreboard situated over the backstop unit.
It lights up when the game time is 0 and stays on until a new time is entered.
It is comprised of five parts, which are joined together with brackets, and are secured to the board frame.
Two luminous frames must be purchased for a set of basketball units.
Connection instructions:
WITH MONDO POSSESSION MODULES:
If the possession scoreboard is a MONDO one, the connection is simple and the luminous frame works correctly synchronized with the possession module. If the possession scoreboard has been purchased from MONDO prior to purchasing the frame, they must be sent to MONDO technical service for them to include an electronic plate on the inside.
WITH OTHER COMPANIES POSSESSION MODULES:
If the possession scoreboard is being manufactured by a different company, you must contact their technical service for them to make the right connection in accordance with the possession scoreboard operating mode.

MONDO luminous frame power source maximum current consumption is 24 W.
This product has been designed to work coordinated with a MONDO scoreboard model used as main scoreboard and MONDO possession scoreboards, operating in Basketball option selected in the main console. It can also work coordinated with MONDO FIBA consoles.
Variants
Led luminous frame MEPK8600