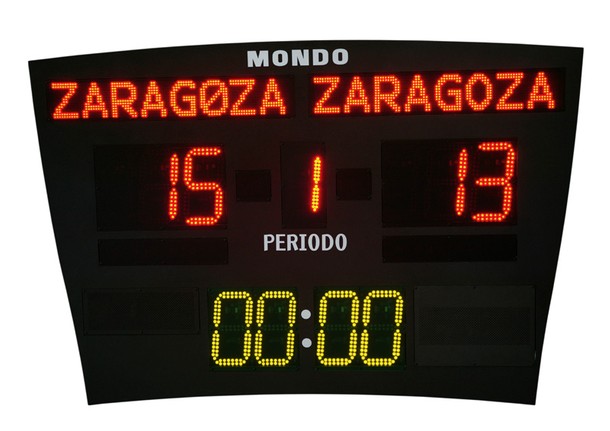 By including this extra function in the MULTISPORT MONDO MODEL SCOREBOARD, the names of the teams playing the match can be inserted in the scoreboard. The white vinyl stickers with the "HOME" and "GUESTS" words normally written on scoreboard (in white) are replaced by a 96x14 cm LED matrix.
These luminous letters are maximum 14 cm tall and 8 characters per team, using capital letters. They are made of very high luminosity LED diodes, which permit visibility at 65m and a viewing angle of 160º. Their consumption is 75 W (max.).
The team names are programmed from the scoreboard control console. Initially, before the beginning of the match, the user must enter in the programming mode where the team names must be written. This can be easily done. The console stores the last team that was entered in its memory and the scoreboard shows this each time it is turned on.
This function represents an increase in price with respect to the standard model price, and can be purchased with the following MONDO models, working as an accessory for them:
ARIES
TAURO
ORION
ANTARES PUNTOS
ANTARES DORSAL
FENIX
In PEGASUS model (both ACB or Level 1) and ANDROMEDA "Programmable team names" function is already included as standard option. A PC is used for programming in these models.
Variants
Programmable team names ME0010