Made of fiberglass-reinforced polyester. They are designed and built for easy storage as they can be stacked one inside another.
The surface is perfectly smooth with the color built into the material throughout the thickness of the product in order to reduce maintenance. A reinforcement strip along the lower perimeter gives rigidity and stability to the product. At the top of the box is a hole for easy transport.
The nomenclature is made with stickers applied to each of the three faces of the box.
Standard nomenclature: WR (World Record) – CHR (Championship Record) – Q (Qualify)
Dedicated nomenclature available at Customer's request (Olympic, World, National, Continental Record, etc..)
SALES UNIT
Set of 2 pieces per nomenclature
DIMENSIONS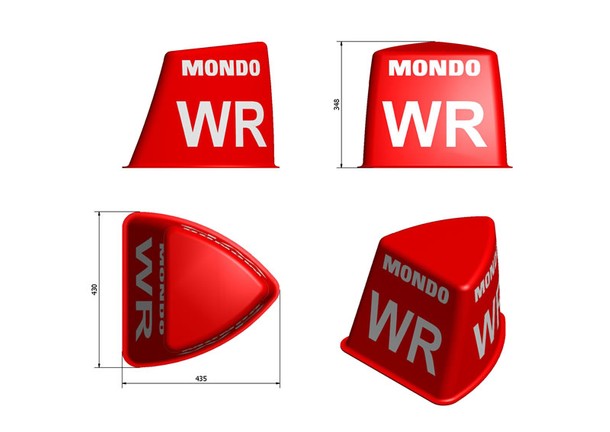 Variants
Record and Qualification Marker Box WS AL106 (World Record)
Record and Qualification Marker Box WS AL107 (Championships Record)
Record and Qualification Marker Box WS AL108 (Qualifying Mark)