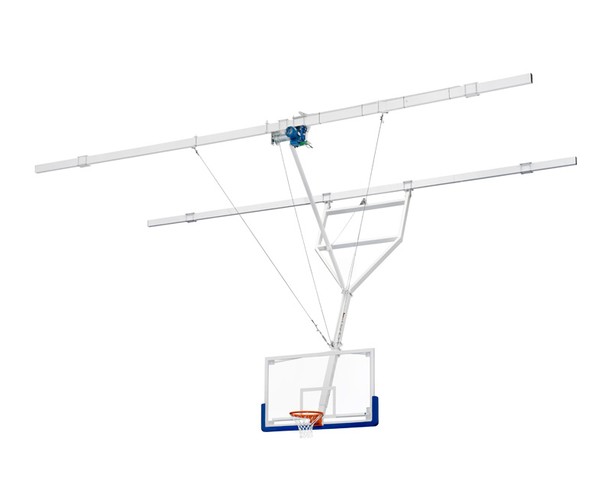 Set of two basketball units designed, certified and manufactured to comply with the European Standard EN-1270 (tested by the Institute of Biomechanics of Valencia). It has been designed with the latest computer- assisted design technology. Studies has been carried out on impact absorption and vibrations during play using the finest analysis elements. This basketball unit is installed on the roof trusses and can be folded from the front. The folding operations can be done automatically (with a control panel) or manually (depending on the customer's choice).
It is mainly designed for basketball training courts of indoor sport facilities.
Several options can also be chosen for the rim (tilting or fixed) and the backboard (material and thickness). The board is protected with reticular protection padding at the bottom.
MONDOSINGLE structure is painted in standard white colour, but other colours could be used among the standard range.
The basketball unit installation is different for each type of sports facility, so the Mondo technical staff has to study each case and develop the most appropriate solution. The additional structure to fix the MONDOSINGLE to the roof trusses will be manufactured and adapted according to the characteristics of the sports centre, so it has to be studied and quoted separately.
Variants
Set of MONDOSINGLE basketball units PK402 (Set of automatic MONDOSINGLE basketball units, tilting ring, 15 mm board)
Set of MONDOSINGLE basketball units PK403 (Set of manual MONDOSINGLE basketball units, fixed ring, 15 mm board)
Set of MONDOSINGLE basketball units PK404 (Set of manual MONDOSINGLE basketball units, tilting ring, 10 mm board)
Set of MONDOSINGLE basketball units PK405 (Set of manual MONDOSINGLE basketball units, fixed ring, 10 mm board)
Set of MONDOSINGLE basketball units PK406 (Set of manual MONDOSINGLE basketball units, tilting ring, 20 mm board)
Set of MONDOSINGLE basketball units PK407 (Set of manual MONDOSINGLE basketball units, fixed ring, 20 mm board)
Set of MONDOSINGLE basketball units PK408 (Set of manual MONDOSINGLE basketball units, tilting ring, fyber glass board)
Set of MONDOSINGLE basketball units PK409 (Set of manual MONDOSINGLE basketball units, fixed ring, fyber glass board)
Set of MONDOSINGLE basketball units PK410 (Set of automatic MONDOSINGLE basketball units, fixed ring, 15 mm board)
Set of MONDOSINGLE basketball units PK411 (Set of automatic MONDOSINGLE basketball units, tilting ring, 10 mm board)
Set of MONDOSINGLE basketball units PK412 (Set of automatic MONDOSINGLE basketball units, fixed ring, 10 mm board)
Set of MONDOSINGLE basketball units PK413 (Set of automatic MONDOSINGLE basketball units, tilting ring, 20 mm board)
Set of MONDOSINGLE basketball units PK414 (Set of automatic MONDOSINGLE basketball units, fixed ring, 20 mm board)
Set of MONDOSINGLE basketball units PK415 (Set of automatic MONDOSINGLE basketball units, tilting ring, fyber glass board)
Set of MONDOSINGLE basketball units PK416 (Set of automatic MONDOSINGLE basketball unit, fixed ring, fyber glass board)