Mondo protagonist at 2016 FIBA Centrobasket
The famous Central American basketball competition took place in Panama City where Mondo supplied the latest generation of sport flooring and equipment
Jun 27, 2016
2016 FIBA Centrobasket just concluded on Saturday, June 25th. In the Central American men's basketball tournament in which the 10 best basketball teams of Central America and the Caribbean participated. The tournament organized by FIBA Americas was held in the Arena Roberto Duran in Panama City and was won by the Puerto Rico team.

Mondo was the great protagonist of the tournament thanks to the supply of sports flooring and the equipment with the latest technology. Mondo supplied four LED screens measuring 12 square meters, which have been supplied with the Mondo software and MondoPlayer, in additon the MondoAthens basketball hoops and the portable wooden Fast Break System II flooring.

With this internationally renowned event is the theme song yet another beautiful and successful collaboration between the Mondo and FIBA.

FIBA Americas is satisfied with the cutting-edge Mondo products and technical support.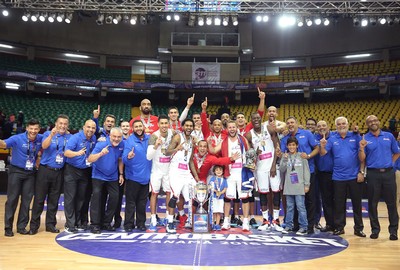 The award ceremony at Roberto Duran Arena in Panama City